Last Halloween was M's first and boy did he look adorable! As he wasn't so mobile, we dressed him up in a little spooky halloween skeleton babygrow. I thought that his first Halloween fancy dress Costume would always be his cutest outfit. But when we dressed him in this years costume, the whole room was full of awwws and "isn't he cute" comments.
Initially C wanted Monkey to be a pumpkin, but I wasn't too keen on that idea. So we settled on a little Vampire. When the costume arrived we were concerned he wouldn't wear the supplied head attachment. But we popped it on him whilst distracting him and he happily wandered round the house, oblivious to his adorable vampire ears.

This little costume came in 4 pieces, so it was really easy to get M dressed in it as it went over his leggings and vest. The cape was velcored to the top, which we felt was great as he couldn't catch himself on cape ties. C and I have always been big fans of Halloween, so we couldn't just let M dress up on his own. I chose a zombie schoolboy costume and C was a zombie cheerleader. Again both costumes were very easy to put on and were actually quite comfortable. Although C was freezing when I made her stand outside for shots. It seems Zombie cheerleaders feel the cold!
We really are big kids when it comes to dressing up. I still remember our first Halloween party we went to. I was a zombie then too. I like to think we will be dressing up as long as we can find suitable costumes.
Although I think I may have been a bit too into being a zombie as I managed to upset Monkey at one point. It was all ok once I stopped growling.  C is very happy though, as her mum bought M a little pumpkin baby grow, so she got her wish too.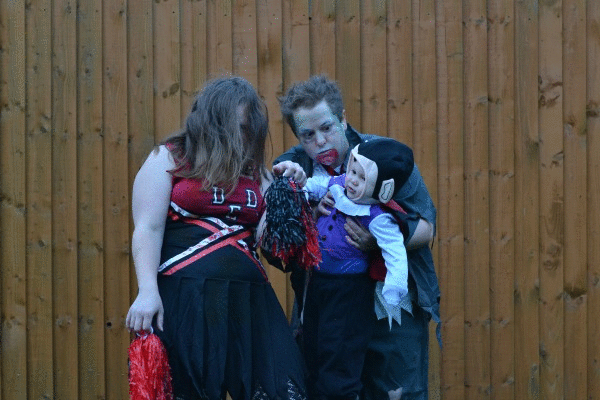 *we were sent these costumes free of charge. All views are our own.