Babywearing is a big part of our lives and has been ever since Monkey was born. I love to feel him close to me and I am able to talk and interact with him about the amazing world we live in. We used to use a wrap sling, which was perfect for when he was tiny and slept most of the time, but since he has become more inquisitive it just didn't work. M doesn't want to stare at Mummy all of the time. Plus he's getting heavy!
I'd seen a BabaSling demo at The Baby Show last October and very nearly bought one but at that time M was still very young and we were smitten with the wrap sling. A few weeks ago we were contacted and were asked if we wanted to review the Baba Sling, of course I jumped at the chance!
I'll start by saying, I ADORE this sling! I have it on constantly, as you might have noticed from our pictures.
There are 6 different positions you can carry your little one in and can be used from birth. I carry Monkey in the Side Saddle position, he's a bit too big for the others, coming in at a whopping 2 stone already. The Babasling comes with an instruction manual which guides you on how to use each position step by step. If you lose them you can download another from their website. There is also a step by step guide there or a video tutorial. That's service!
The Babasling has two buckles for extra safety. One large buckle with adjusting straps and one smaller safety buckle so if one of them were to fail, there is another one to stop the baby from falling. I find it easier to adjust the straps once Monkey is in the sling already. I do this by reaching back with my free arm and pull the straps, it's a little bit fiddly and I find I need to hold M's weight a little for them to give but if you are the sole user, there should be no need to do it again.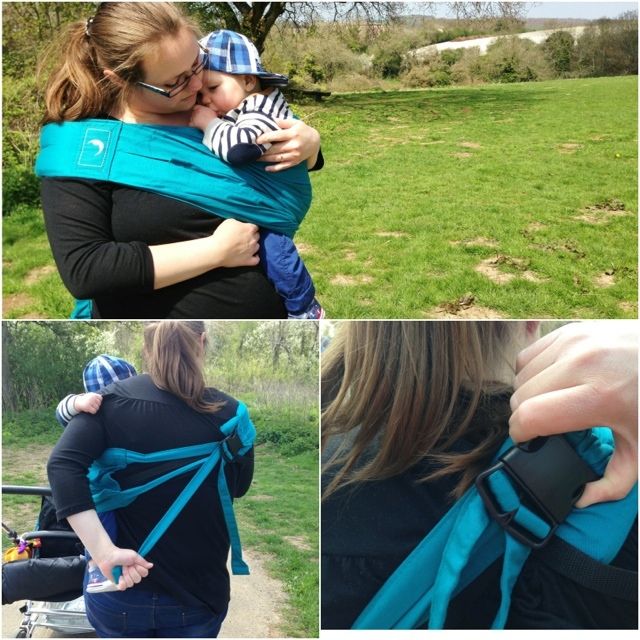 The sling has an Upper and Lower railing, which in plain terms means the fabric on the edges of the sling are very thick and padded to make sure the baby is secure and can't slip out. They make the sling feel very sturdy and safe when your using it. They cause no discomfort to Monkey either.
How to use the Side Saddle –
Place the sling over your head so it sits across your body (like a Satchel). The Babasling Logo must sit on the supporting shoulder at the front and the buckles must be at the back.
Place the baby on the opposite shoulder, take his/her legs and guide them underneath the sling. Bring the sling over the baby with the other hand and place the lower railing under their bum. Then slowly guide baby down onto your hip. Baby's bum should sit nicely in the fabric, with their legs around your hips. Make sure baby's knees are higher than their bum for safety. Then adjust the straps if you feel it needs to be tighter. It's as simple as that and takes me less than a minute to do. To take baby out, support baby with your supporting arm and with the other, reach back and unclip the buckles which should be sitting at the top of your shoulder and easy to reach.
Monkey sits happily in this sling on a daily basis. I've never heard him moan about having to go in it. He even gets excited at the prospect of being carried and he often falls asleep in it so he must be comfy. When I first used the sling I felt that it pulled on my arm a little due to M's weight but over time I stopped noticing. I thought, the weight has to be distributed somehow so I'll persist with it. I think I may have been leaning into the weight which made it worse but that could just be me.
Although I LOVE this sling and rave about it, Kirsty's opinions of it are very different.
K is very top heavy and finds getting M into the sling a struggle and no matter how much we loosen the straps it restricts her breathing a bit. She also doesn't have my child bearing hips and we find that M sits very low down with her and tugs on her shoulder more than normal. On me his weight is supported by my hip as well as my shoulder so balances out, with K, it's a very different story. My sister-in-law said the same thing but having only worn it the once it could be that she needs to get used to it.
I would recommend this sling to anyone. I love it so much I bought myself another one in a different colour so I can keep one at home and one in the car/stroller at all times. It's just fabulous!
There are so many different colours to chose from which you can view on the Babasling website. We love bright colours so we chose the Teal Green and the Scarlet Red. I have so many comments about what a great looking sling this is and how happy M seems to be in it. I always rave about it.
The sling retails from £39.99 which I find quite reasonable.
I'm keeping mine safe for the next baby.
We were given a Babasling for the purpose of this review. All views are our own.