It seems like only yesterday we were writing last months Sharing Happiness post. This month has flown by and we found ourselves at the 28th, wondering what we were going to write about. This month we've certainly smiled more than last, we've hugged more people than we've hugged all year and we've been grateful for this little blog and the opportunities it's provided.
There is now doubting that blogging makes us smile. We never anticipated the community we were entering by sharing our words online. Each year we blog we strengthen friendships made through the events we've attended all because of where this blog has taken us. I never imagined I would talk to two people every single day who I met through the internet. You'd think I'd be more prepared because that's where I met C. But to find two lovely people who make me laugh, offer pillow hugs and make me smile when it's the last thing I want to do, I am eternally grateful for this blog and the event it took us to where I met Lauren and Hayley.
This month we attended Britmums Live, an event we wouldn't have bought tickets for if we weren't bloggers. We met so many lovely people, people who share their words and lives we follow. You feel like you know these people although you've never met. It's great that someone can come and say hello who has read your blog since M was a few weeks old.
At these kind of events I like to snap pictures of myself with as many people I meet, as possible. This is because I like to remember all the lovely faces of those I am lucky to talk to, smile with, learn about and even in some cases go on to be really good friends with. There isn't a day when I don't feel thankful for the blogging community. When times were tough last month there were many friendly comforting words. When I came off the stage at Britmums Live there were messages waiting to tell me how well I did.
So much good can be done by everyone with a platform or a voice and I love seeing people make a difference. I want to take this opportunity to thank each and every person who reads our little blog, who's sent us comforting words when we're met with sadness or who's just sent a tweet or email saying hi. We love to write this blog for ourselves, but it's so great to venture into the community that's now full of our friends.
We'd love you to share what's been making you happy this month. Link up a post, pic or vlog, below.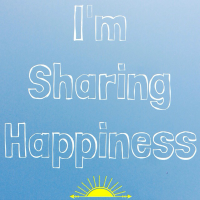 <div align="center"><a href="https://mytwomums.com" rel="nofollow" title="Sharing Happiness"><img src="http://i894.photobucket.com/albums/ac150/cybherSian/Sharinghappiness_zpsa0a96d7f.png" alt="My Two Mums Sharing Happiness" style="border:none;" /></a></div>