Britmums Live 2013 – A room of friends.
Last weekend, we left Monkey at home with his Nanny for the first time ever and drove in to London to visit Britmums Live with 500 other bloggers from around the UK (and world). It was an incredibly emotional goodbye as M drove off with his Nanny, we stood waving with tears on our cheeks, whilst he looked at us like we'd lost the plot. We felt confident with the knowledge that he was in the best place possible and made a decision that we would try to enjoy our weekend as much as we could.
After 3 hours of motorways and a reasonable amount of traffic, we made it to the NCP car park which would home our little KA for the next two days. We learned a valuable lesson once we had parked, pack a wheelie suitcase. Our car park was about 15 minutes walk from the Premier Inn we were staying in, so we had to juggle 4 bags (which weighed a ton), 4 pairs of shoes and two outfits on hangers. We arrived earlier than check in time, but had called the night before to ask if early check in was allowed. C had spoken to a lovely gentleman who said we could check in and gave her his name. We were armed with this name when we arrived to check in and were promptly told that no we couldn't check in and he should never have told us we could. Now this wasn't our issue, yet we felt like we were getting told off in the middle of reception. She kept repeating that the room wouldn't be ready and made us feel really uncomfortable. Eventually the lady radioed to the cleaning team to ask if our room was prepared. Thankfully they radioed back that it would be ready in ten minutes. We thanked her and went to stand at the side of reception. It was then that a lovely lady walked over, apologised and offered us tea and a seat in the restaurant. As soon as we accepted her offer and made to walk over to the restaurant, our room suddenly became available. With relief, we headed to the room, showered, FaceTimed M and dressed to impress (for comfort).
On arrival at  the The Brewery it was clear we were in for a luxury weekend. The building is gorgeous, I do have a thing with buildings, I love the architecture and designs of rooms, so I was in for a treat. The first people we met were the lovely Modern Mummy, Make Do and Push and the gorgeous Laura from Rocket and Bee. We caught up with some more familiar faces like Emma, Bex, Lucy, Rachel and Danielle, grabbed a quick drink and then headed in to the main room to watch the Keynote speak by Kirstie Allsopp.
We were both already a little bit in love with Kirstie, as we had just met her to get our book signed, but after listening to her down to earth chat we have come to the conclusion that she is completely adorable.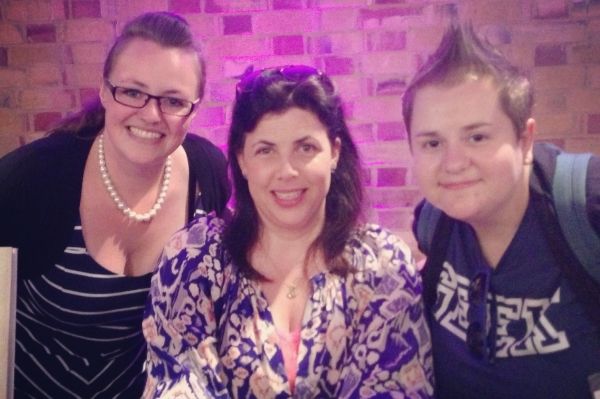 We stayed seated after the keynote to listen to the Brands session. But after a while we were eager to get back in to the hub and see who else we could spot and hug. We enjoyed talking to some of the brands and C loved getting her name on a bottle of Coke as she is Coca Cola's biggest fan and is yet to find a bottle with her name on. We went back on the second day and got M's real name on a bottle so that we had the whole family.
The afternoon seemed to fly by and soon we were supping wine and taking our seats to watch the BiBs awards get handed out. We were lucky enough to meet the beautiful Jennie and we look forward to chatting more to her next time we meet.
The category we were finalists in was up first. I was already convinced of the winner, yet I found my stomach fizzing with nerves. Thankfully the best blog won (Life as a Widower) and we were able to clap and whoop as he collected his award. We continued to whoop and clap as I slowly got quite tipsy. The wine glasses on the table were like buckets, so I had no idea of the official measure of wine I drank.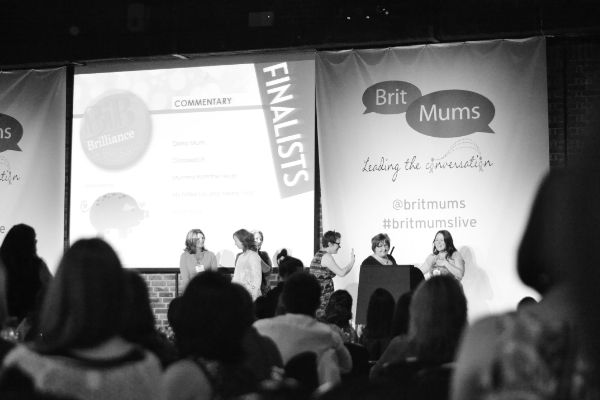 Once the awards were over we headed out for a VERY late dinner with some lovely people, including Jenny from Mummy Mishaps , Stressy Mummy, Welsh mum of 3 boys and lots of other fab ladies. We got back to the Premier Inn quite late, so just had enough time to pack everything for the morning and jump in to bed for a very restless nights sleep.
The next morning we woke up a lot fresher than I thought we would. A drunk person had knocked on our hotel door at 3am and then an ambulance outside the window had woken me up at 5am. I was certain it was going to be a coffee day and I'm not much of a coffee drinker. On arrival at The Brewery we discovered breakfast was being served in the hub. I had a couple of small waffles with berries and C had some croissants. It was lovely to meet Ruth from Geek Mummy and her other half, who filmed me eating my breakfast.
We headed back to the main Britmums room to listen to the amazing Katy Piper. She really is an inspiration and I was in total awe of her level of positivity. We were accompanied by the lovely Lauren from A Real Housewife of Suffolk. It felt like we had known Lauren for years, even though we only met her this weekend. We shared jokes, session notes and Lauren is the reason we ended up at our favourite session of the weekend (Become a YouTuber).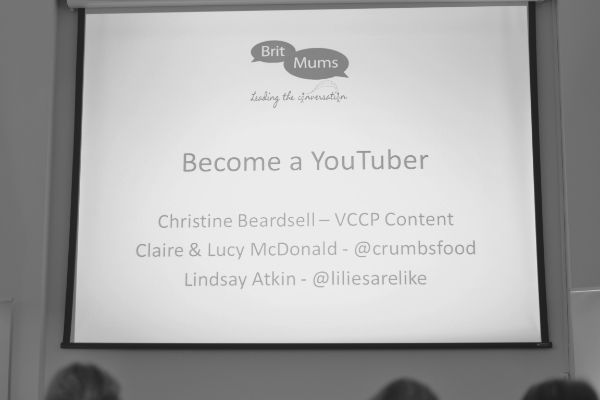 When we first looked at the agenda, we decided we would attend the SEO session as I was interested in improving the SEO of our blog. Clara wasn't too interested in this session at all but was willing to attend to keep me happy. Then our saviour Lauren came along and suggested we join her in the Become a YouTuber session. It was a session I had my own on as I am a massive YouTube fan and have dreams of expanding our blog into vlogs on our YouTube channel. As we walked towards the session I told Lauren about one of my favourite YouTubers, Charlie from Charlie is so cool like. We sat down, I looked up at the projector screen to see who was talking at the session and audibly gasped as I spied Charlie's Mum's name on the list. It was like the Universe provided the path I was meant to be taking, I was in that session for a reason.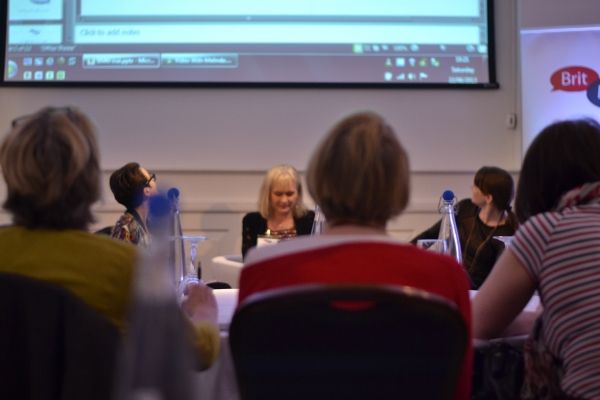 When it came to question time, I thrust my arm in the air and told Lindsay from Lillies are like, how much I loved her son's videos. I then followed it with a question, to be honest I had a ton of questions, I could have asked them questions until the end of the day. We hung around afterwards so that I could speak to Lindsay some more and also grab a photo with her. She's really one of the most lovely people ever and makes some great videos. So do go check her out. We also really recognised the two sisters from Crumbs Food and felt like we had met them before. If I meet them again, I would love to chat more.
We missed the next session so we spent some time in the Warner Bro lounge where we got to check out the Harry Potter Wands and spell books. We went back later to get our photo taken with one of the owls who played Hedwig. Which prompted one of the moments that still makes me chuckle, all I will say is Camp Owl, Amy (from And 1 More) knows what we mean.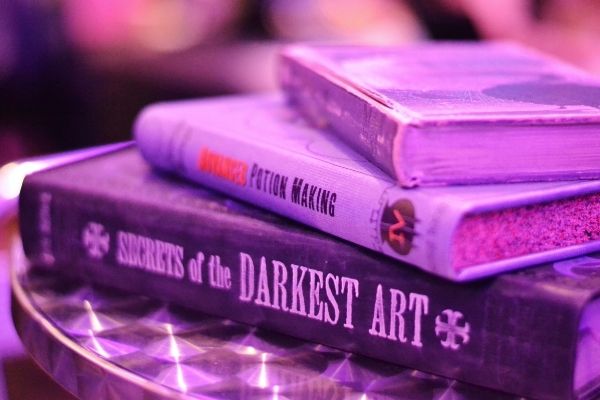 Next session we visited was ran by Richard Gray and it was on smartphone photography. I loved listening to him talk about most of the apps I already know and love. After a while C and I got slightly bored, to be fair the session was noted as being for beginners. So with some notes written down for a friend, we headed back to the hub.
We seemed to be spending almost all out time in the hub, chatting to brands, drinking, eating biscuits and most of all getting to know our new friends better. Because when it boils down to it, that's what Britmums Live felt like. One big reunion of friends and introductions of new ones. We loved getting to know Lucy from Dear Beautiful and Katie from Mummy Daddy and Me, better. These two are two of the loveliest people you will meet and yes I keep using the word lovely. But these two truly are, plus they have stunning children!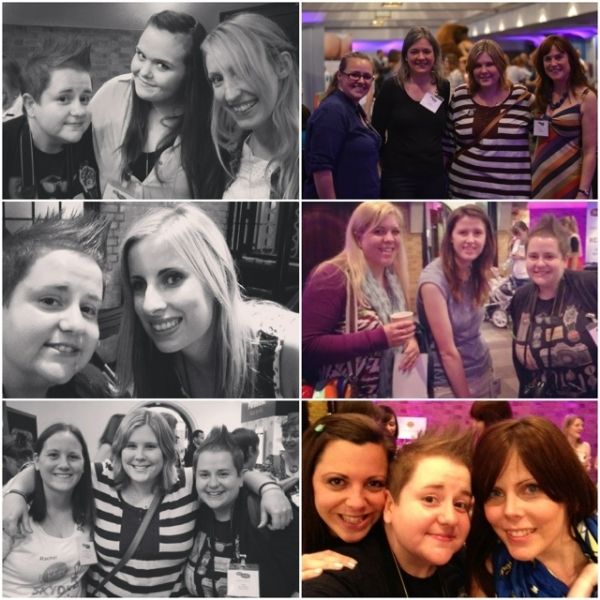 The afternoon was rapidly flying by, we cuddled penguins and a lion, ate cupcakes and delicious Fox's biscuits. We walked out of another session, this time it was on food blogging. We found the session to be a bit too judgemental and not at all what we expected, but others loved it, so it really is down to the individual.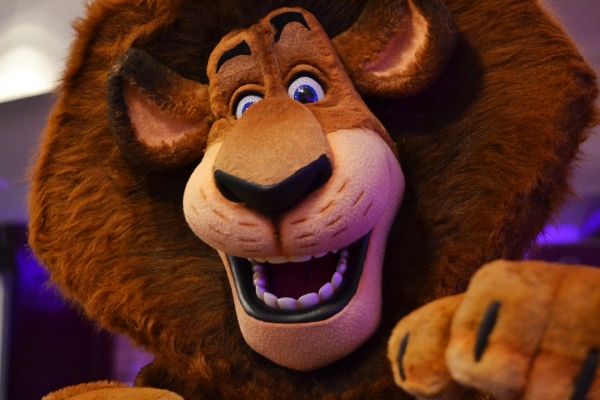 We fell in love with pretty much everything in the Panasonic lounge especially this camera.
The end of the day almost arrived as we headed to the main hall for the bloggers keynote speakers, presented by the beautiful and incredibly funny Katy Hill. I didn't have the balls to say hello to Katy this year, but if she's there next year I hope to.
First up was Charlotte from Write Like No one's Watching. Charlotte is someone you can't help but love. She is funny, adorable and writes from the heart. I am so glad we finally got to meet her and listen to her bring a very funny and heart warming post to life. The rest of the keynotes had us laughing and crying. I will never forget listening to Susanne and Heather read Rembering Matilda Mae, as I sobbed through much of it.Then the most amazing moment occurred as several hundred women stood up and sung Firework by Katy Perry, in memory of Kerry from Mutiple Mummy who sadly left this earth far too soon.
As Susanna and Jennifer rounded up the weekend we already knew we wanted to be here next year.
There were more hugs, goodbyes and goody bags. We started the 3 hour journey back to our little boy with the feeling that we just made lots of new friends, friends we hope to see again soon.
Some of our outfits were very kindly provided by Zalando, an online clothing store. They have a fantastic range of items and offer free postage. We were a little concerned our clothes wouldn't arrive on time due to an error at their warehouse, but they came through and arrived the day before we left for London. Both C and I were incredibly pleased with the quality. *We were supplied with a £100 voucher for their site. All views are our own.
We would like to send a massive thanks to Mamas and Papas for sponsoring our tickets. Mamas and Papas are embracing modern families which is something we truly support.