Cybher – A totally inspiring day.
Last year I followed the tweets and posts of those who attended Cybher. I was incredibly jealous and was hoping to attend this year. It was just a few weeks before the event that we discovered we would be able to attend thanks to some fab folk.
As it was to be our first official blogging event and we had a few nerves, so we set up a twitter list to attempt to get to know people before the day and to allows others to tweet before they met. I'm so glad we set this up as lots of lovely ladies approached me to tell me they found the list helpful.
We had arranged to drive down on the Friday evening when I finished work and stay with C's Nan in Egham so that we could get the train in on Saturday morning. At lunchtime on Friday I got a call from C, the car wouldn't start. Thankfully her stepdad helped out by jump starting the car and took her to our local garage. Five hours later we finally left Dorset with a new battery, set of breaks and break pads. Massive thanks to my parents for helping us pay for it.
We spent the drive down talking about sessions we wanted to attend and decided we would split up on several occasions so that we could learn more. Sadly this didn't go to plan, but I'm glad we read up on what we wanted to go to as on the day we were quite distracted with M and knowing the session plan allowed us to catch sessions we didn't want to miss out on.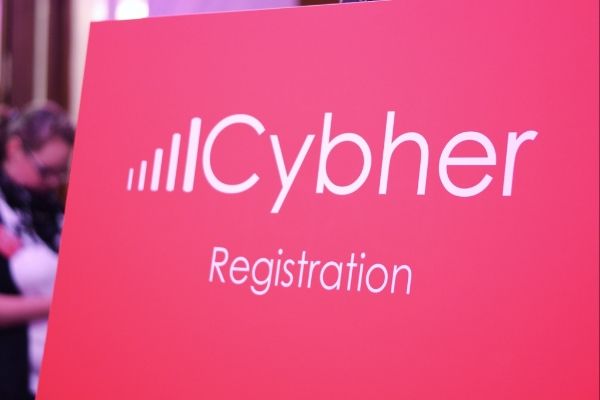 We arrived in London at 8am and took a stroll to Trafalgar Square to grab some breakfast. We found ourselves eager to get in to Cybher, so we found 8 Northumberland Avenue and joined the already growing queue of bloggers.
I recognised a few faces but was suddenly struck with nerves. The lovely Laura from Rocket and Bee approached us, said hello and gave us a lovely hug. M decided queuing wasn't for him, so he took a toddle up and down the queue and said hello to Adele from Playful Learners little one. We also had a quick hello with Kara from Innocent Charms Chats. .
As soon as the registration doors opened, I was excited to get my hands on a fantastic satchel by The Leather Satchel Company. Both C and I managed to nab some specially designed satchels, that will never end up in a charity shop. We then said our hellos to the lovely Claire from Bad Fiction who was totally rocking a gorgeous bump!
We got instructed to head to the ballroom, but we ended up downstairs among the sponsors, so I took this opportunity to top up the charge on my phone. We met some more lovely bloggers and let M have a little flirt with several people, before heading up to the ballroom. On our way we bumped in to the lovely Danielle from Blog by Baby, Katie from Mummy Daddy Me and Lucy from Dear Beautiful. I know there were others present but I was worried about missing the opening welcome so was a bit distracted. Apologies if I forgot to mention you.
The Ballroom was nothing short of spectacular, I was obsessed with staring at the ceiling, it was so grand. Lucy set up a little area to feed BG so we tagged on and it became baby corner with LL from Mummy Daddy Me. M turned on his charms and was determined to entertain BG, he pulled all his moves, nibbling her hand, trying to eat her breakfast and sharing his favourite toy. BG played it very cool and kept him on his toes. It was at this point I noticed Jay (Cosmic Girlie) commando crawling across the floor, snapping pictures as M pretended not to notice.
After a fantastic welcome by Siân (geekisnewchic), we listened to a keynote speech by Zoe Margolis. To be honest I was quite distracted as C left the ballroom with M as he was getting noisy. But it gave me time to admire the ceiling some more. I really love buildings!
Our next session was with the lovely Michael Underwood. On entering the room we quickly realised M wasn't going to sit still for the whole sessions, so C took him out to get him off to sleep. I really enjoyed the relaxed way Michael spoke to us. I had been eager to meet him since we worked on the Mamas and Papas campaign as Michael blogs for them. We found the information he provided useful as we were preparing for an upcoming interview and wanted to make sure we didn't come across wrong. We left the session with some fab tips and pleased that we had attended.
Our next session we attended was by Mario Cacciottolo. I have followed Mario's journey for a while as I'm a big fan of his site Someone Once Told Me, where he photographs people holding quotes that people have told them. Mario gave out great tips to improve our photography whether you are using a mobile phone or a DSLR. We all became lords of the light and promised to always make use of the light around us. I loved the approach he took with his session as it was in bite size chunks which gave me plenty of time to take notes. I may possibly write a future post in more detail.
By now my stomach was rumbling as we headed downstairs for lunch. As a mini burger was whisked past me I started to worry I wouldn't get anything to eat being a vegetarian. I didn't have to worry long, suddenly a lovely lady appeared with a tray of Dim sun, presented beautifully in a mini bamboo steamer. I nabbed a burger for C and then spotted a mini fish and chips which was perfect for M. We nibbled several portions before someone arrived with a dessert which I can only describe as having been invented by dessert angels. If I could have tackled someone for the whole tray, I would have.
A quick browse round the Homebarn stand followed lunch before we headed on to our next session. Originally C and I had planned to spilt here and attended two separate sessions, but a the last minute I decided I wanted to attend Sh*t You Didn't Know, which was being hosted by Siân and Claire.
The banter between Siân and Claire was lovely to witness as they both declared their love of opposing blogging platforms. Having blogged with both Blogger and WordPress, I can understand their passion. Even those this was stated as being for beginners, I learnt quite a bit and have already spring cleaned the blog and shipped our tag cloud off into the inactive widgets pile. I'm hoping they will upload their session so that I can keep on top of our blog housekeeping.
The next session was my favourite of the day and requires it's own individual post dedicated to it. All I will say is Jay Mountford is a legend and I would happily sit and listen to her talk photography all weekend. C also told me that M spent the first half of the session smiling at Kara from Chelsea Mamma.
I had a really wanted to attend Maggie's Google+ session but ended up in the Pinterest session ran by Natalie Lue and Claire Archbold. Even though I hadn't intended to be there, I found their session very interesting and it inspired me to pin more, not that I needed an excuse. I also got to cuddle Bex from Mummy Adventure's little man and got my little man stolen by Emma from >Me The Man And The Baby.
As I was in the Ballroom, which I was in love with, I decided to stay for the next few sessions. I will be honest and say I didn't take too much in at these sessions as I was too busy chatting. But I did take that opportunity to search the Cybher hashtag to add people to our twitter list. It was then M decided he wanted to go and make eyes and Siàn.
The day had flown by far too fast, Siân was back on the stage saying her thanks and goodbyes. It was then she decided to share a story with everyone, a story I already knew. Something which had touched me and the way I feel about life. I have a strong belief that everything happens for a reason. Whilst making our twitter list I came across a lady (Claire who blogs at Eethree) who I added to the list before reading her post about why she was attending Cybher. It turned out that this lovely lady had purchased a gorgeous leather satchel from a charity shop which had the word Cybher embossed on it. She googled the name and landed on the Cybher website where she purchased a ticket to attend the event. I met this lovely lady when she approached me to thank me for our twitter list. Now if you remember me saying at the start of this post, it was only a few weeks ago that we found out we would be attending Cybher, so everything had a plan and it was fulfilled. We had an amazing day, met some amazing people and learnt so much. Huge apologies if I've forgotten to mention you.
By the cocktail party I had a huge migraine through forgetting to drink much throughout the day. It was lovely to catch up with more fab people before M signaled it was time to make a move. it was lovely travelling home on the train with lovely Rachel from Confession From a Sahm.