First Baby swim went Swimmingly
For the last few weeks C and I have wanted to take Monkey swimming. We are both big swimmers and have missed going for our weekly swim since Monkey arrived.
When we first expressed our desire to take Monkey swimming, everyone suddenly had an opinion on when was the best time to take him. Some thought he couldn't go until he'd has his first injections, some thought he needed all his injections and some thought there'd be enough chlorine in the pool to destroy any bugs. We decided it best to ask a midwife, who told us that these days the chlorine levels in leisure centre pools were high enough to make it safe for a baby Pre injections.
So 1 day before Monkey turned 2 months we decided to take the plunge and take him for his first baby swim.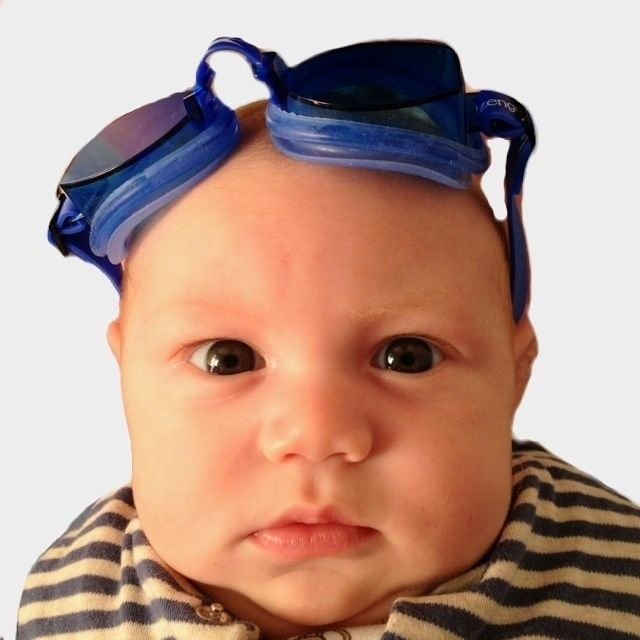 Both of us were a bit concerned with the taboo subject of poo in the pool. We had some baby swimming nappies a friend had kindly given us but were still concerned they wouldn't hold in a Monkey size poo. But we needn't have worried, 30 mins before we left for the pool Monkey's bum exploded inside and outside of his nappy, over the changing mat and all over me.
Well at least there was a possibility there was nothing left inside him to cause a stir in the pool.
We eventually made it to the leisure centre and in to the pool.
Monkey's little eyes went wide, at first I think he thought he was in a gigantic bath as the water was pleasantly warm. We bobbed him around a bit allowing him to get used to the noise and new surroundings.
Then the smiles began, we bounced him and splashed him and even mini dunked him and still the smiles came. Until I scared him by lifting him out of the water a bit too fast. The tears began so we called it a day.
Hopefully he will be just as smiley next trip.
You never know, we may have created the next great British swimmer.