The weekend of Mother's Day, C, Monkey and I were many miles from Dorset, visiting my childhood home for the last time ever. My parents are moving to Dorset to be closer to us all and I wanted one last look at the house.
We hadn't made any plans or activities for Mother's Day as we weren't sure what was going on in the area. Monkey had got C a card and a present but due to being away from home he hadn't got her flowers. After a bit of planning we went one better. We decided to take a trip to Kew Gardens to see lots of different flowers and plants.
Kew Gardens holds a lot of good memories for C and I. When we were dating we took part in an Easter egg hunt with my niece, we'd visited during different seasons to see different exhibitions and I'd even pushed her round in a wheelchair after she'd had an operation.
We thought it was the perfect opportunity to take M for his first visit as he is starting to get much more interactive with his surroundings. It was a freezing cold day, so we wrapped M up and set off to explore.
Kew Gardens is a great place to take your family. There are usually different exhibitions on during the year and the day we attended was the last day of the Orchids exhibition. If you want to keep costs down when visiting, our best tip is to take a picnic as the cafe can prove expensive if you're having more than a drink.
M wasn't too interested in the Orchids, though I got to practice with my new 50mm lens and took plenty of pictures. I'd forgotten that underneath the orchid display was a small aquarium. We got M out of his pushchair and his face was adorable. He was amazed, each time a fish swam by and he slapped the glass with his little hand wanting them to swim by again.
It was great watching the joy spread across his little face, I wanted to bottle the moment and keep it with me. I'm so glad I have a love of photography as it means I get to capture the moments I love as they happen. Even though I'd walked through the aquarium many times over the years, we took our time, savouring the moment and allowing M to enjoy the new sights.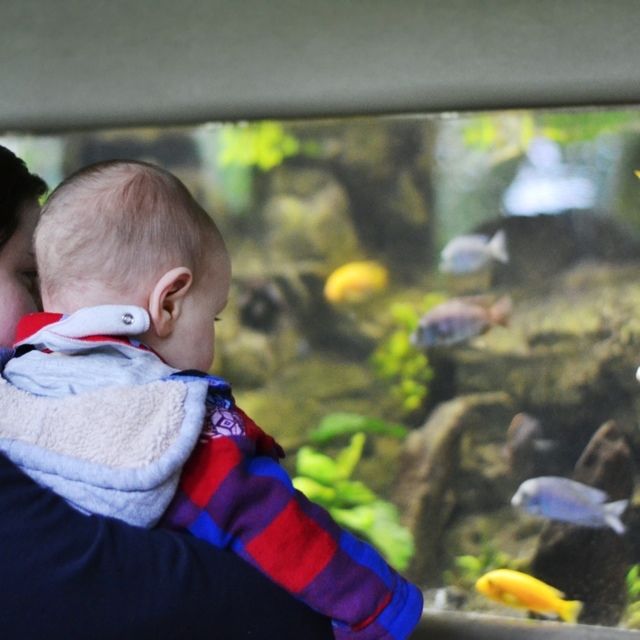 After a sneaky picnic eaten in a cafe, we made a dash for the tropical plants dome to warm up. There wasn't too much for M to see in the dome as it's mostly tall tropical plants, but he enjoyed the whooshing sound the spritzers made as they covered the plants in a fine mist. If it had been a warmer day we would have spent hours wandering around the grounds, but as it was minus figures we decided to cut the day short.
We can't wait to take M back in a few years, there so much more for him to see and enjoy as he grows. If you ever find yourself that way, we highly recommend a visit.
For more photos check out our Flickr, just click here.