This past month has been about spending time with friends and family. We are so happy to have such wonderful people in our lives whom we look forward to spending time with.
On valentines evening Kirsty and I enjoyed a lovely meal together, followed by a drink in our local pub. We had such a lovely time catching up as a couple. Neither of us are big drinkers but it was so nice to be standing in a pub, as an adult, sipping a nice cold cider, whilst laughing and talking about anything but snotty noses and teething, even if we did almost get blown away in the worst storm to hit Dorset since the hurricane.
We were also very happy the next day we had plans to meet some family friends who only live a couple of hours drive away. Every couple of months or so we arrange to meet each other half way between our homes in Lyme Regis. Each time we visit we are always met with beautiful weather, however seeing as a few days before we read about 30ft waves we braced ourselves for torrential rain and blustery winds. We were beaming when we were met with blue skies and warm(ish) weather. We had a lovely day eating cakes and running along the seafront with our toddlers. They are only 17 months apart and it's always so lovely watching them together. M likes to give lots of kisses.
We were also delighted when we were invited to the Baby Show at the Excel London this past weekend. We decided to make a long weekend of it and booked ourselves into a hotel for the Thursday and Friday evenings. Monkey loves to look at buses and lorries at the moment so we took the opportunity to take M on his first bus ride. His little eyes lit up as we got on and he was beaming from ear to hear for the whole journey. It's little moments like that which make you thankful for all the love and good in your life. We spent the whole of Thursday walking around Kingston Upon Thames, talking to M about our life before Dorset.
On the Friday we spent the day checking out all the new baby gadgets and catching up with friends from the blogging world. Over the last year we have been writing for Emma's diary and have made some great friendships, so we were very happy when the lovely Sian from Geek is New Chic invited us out to lunch with fellow bloggers Kara and her lovely family from Innocent Charms Chats and Ella from Bells little ones. Through blogging we have met so many lovely people which we would never have had the chance to meet in ordinary circumstances and it's always great to have these events where we get to meet face to face and have a good catch up, rather than being just 140 characters and an avi on a computer screen.
February has been a wonderful month for us and we have enjoyed sharing our happiness with you all. We would love it if you would like to link up with us and share your happiness over the last 28 days.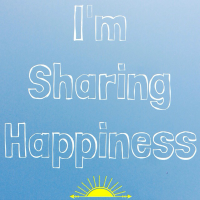 <div align="center"><a href="https://mytwomums.com" rel="nofollow" title="Sharing Happiness"><img src="http://i894.photobucket.com/albums/ac150/cybherSian/Sharinghappiness_zpsa0a96d7f.png" alt="My Two Mums Sharing Happiness" style="border:none;" /></a></div>