It could be this, or possibly that..
As you may already know from our previous post, we've had a few scares this week which resulted in spending 3 days in hospital.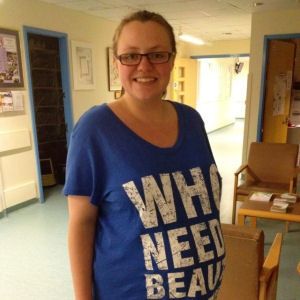 Over the past few weeks I have been suffering with small headaches, dizziness and nausea. I had been keeping a close eye on my symptoms, however at my last midwife appointment they found protein in my sample, which of course is not a good sign and we heard the words we've been dreading "It may be Preeclampsia".
I was told that if my headaches persisted or if I felt any worse I should ring the hospital for some advice, which is exactly what we did on Sunday after a particularly bad day.
We were asked to visit the maternity ward, where I was hooked up to a monitor to check the bumps heartbeat and had some bloods taken. Thankfully baby was fine, however my liver tests came back higher than average, so I was kept in overnight so my bloods could be retaken the next morning.
I find it very hard to spend time away from Kirsty as we have only spent a maximum of 4 weeks away from each other in 5 years, so naturally we couldn't get any sleep.
I was allowed home the next day, after the results came back consistent to the previous night and they were sure it wasn't Preeclampsia, which was excellent. I was going to get cuddles with my wife and my comfy bed, or so we thought.
I got in the door, had a nice shower to get rid of the hospital smell and started to relax, until I noticed a small amount of blood when I went to the toilet.
I called the maternity ward straight away and tried to explain what it looked like. It wasn't heavy or deep in colour so they were concerned that my waters had broken and I was asked to come back in. At this time I was 36+5 so if things had started to happen our baby would be preterm.
On the way to the hospital I began to feel light tightening pains we thought I might have gone into labour. However, after a painful examination they confirmed that my waters were still intact and my cervix was still closed but they could see that the blood was coming from my cervix (sorry if TMI). They decided they wanted to keep me in for observation.
Another restless night.
My amazing Mother and Father in law arranged a hotel room for Kirsty that evening so she wouldn't have to drive all the way back home as she was so so tired. That really took away some of my anxiety & she was able to come in by 8:30 the next morning, which I was very happy about.
On Tuesday I had all of the usual checks & bloods taken again but we hadn't been told anymore about what could have caused the bleeding. By now the bleeding had stopped.
We waited all day for someone to speak to us and then at around 5pm the doctor said that my bloods were all normal but I would have to stay in again.
I suddenly got really upset & frustrated at the thought of another night in hospital and burst into tears. I asked if it was necessary that I stay another night as the bleeding had stopped and I hadn't been having any pains but they said it was purely as a precaution.
I then made the decision that being in hospital was causing us too much stress and I was told I could discharge myself. I wouldn't recommend anyone to go against medical advice but I just knew that I didn't need to be there any longer.
It was only after I had made that decision to leave that the doctors tried to keep me there by explaining that I could possibly have a placental abruption, where the placenta comes away from the lining of the womb, however we thought this was odd as that's quite a serious condition, why didn't they tell us this before? I think they just didn't want me to undermine their decision.
As it turns out I did make the right decision to come home. I've had no more bleeding and the pains have stopped apart from some BH contractions. I feel so much better here.
However, I have a midwife appointment on Thursday & a hospital appointment on Friday just to check everything is ok.
So that's our week so far up to date. We hope the baby is getting ready to come but I'd like it to be at least another 2 weeks so it puts on weight and is even stronger.