I am not going to lie, this month we have struggled to find something happy to write about for this months sharing happiness post. It has been playing on my mind quite a bit. However, I soon came to the realisation that even during the sad times, something good always shines through.
Our little Monkey has been a testament to us these past few weeks and I couldn't be more proud of him, he really has kept us and our family smiling. On the day our Little Nan passed, we all spent the day at our Aunt and Uncle's house so we could all be together. We were all very sad and I think M sensed that and requested I played his favourite song 'Happy' by Pharell Williams, me being an adult and assessing the situation didn't feel that it was appropriate to play the song but he insisted and would not stop asking, I didn't really have a choice in the matter.
As soon as the music started playing he ran to the middle of the room to show the family his best dance moves and by the end of the song most of us had joined in and were all laughing and smiling. How wrong could I have been? It was the perfect thing to take everyone's mind off the sad circumstances. It's like he knew he wanted to make everyone laugh. Monkey really does make us the proudest, happiest mothers on the planet.
Kirsty and I also got to spend some quality time together, just us. We visited the Centre Parcs Spa at Longleat and had the best day. We spent the day relaxing and being pampered, which we both really needed, we also needed that time together as a couple. We walked around in robes and snuggled up together in the cosy room. I also found a room where I could have stayed all day long. I love to be warm all the time and it was so hot in there. I just wanted to sleep haha. We're already planning another day in a few months.
We also had a date night, eating pizza on our favourite beach and walking along the sand through the waves. We live in such a beautiful part of the country and we're going to make the most of it.
We have been each other's rock's this past month and it has made our relationship stronger than ever, we feel happy and thankful that we have created such a wonderful family who keep each other from falling.
To top off our happiness for this month, we also found out we have made the finals in the Video category for the Brilliance in Blogging awards held at Britmums Live on the 20th May. We felt so happy to make the short list, so to make the finals is just wonderful and we can't thank those who voted for us enough. We love making videos and we can't wait to hear the result.
So actually, quite a lot to feel happy about this month. If you would like to link up your own happy stories we would love to read them.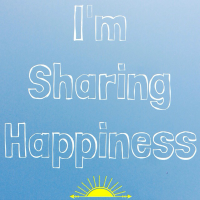 <div align="center"><a href="https://mytwomums.com" rel="nofollow" title="Sharing Happiness"><img src="http://i894.photobucket.com/albums/ac150/cybherSian/Sharinghappiness_zpsa0a96d7f.png" alt="My Two Mums Sharing Happiness" style="border:none;" /></a></div>