Monkey is 4 & 5 Months old
You'll notice that the title of this post covers two monthly updates. The reason for this is we kept meaning to write a 4 month update, but time just whizzed by with prep for Christmas. So we've decided to do both updates in one. The picture below was taken just after Monkey turned 5 months old on the 30th December.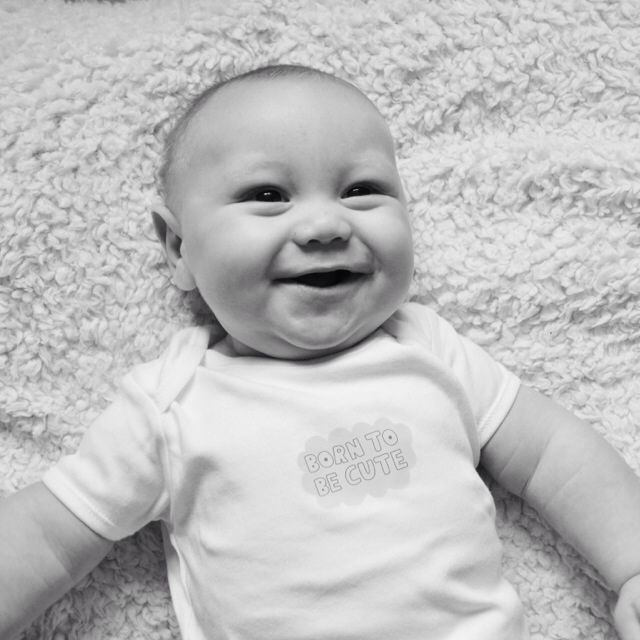 These two months we've seen the most noticeable differences in Monkey. He's really found his voice and giggles if you work hard enough for it. His personality is growing every day, a favourite activity of his is standing and pretending to ride a horse. Sounds odd, but gets the biggest grin. Size wise he's growing well, he's out of his 3-6 months and into 6-9 months clothes.
Bedtime has improved, with him actually going down before we go to bed, which has allowed us to do some much needed adult activities, like read, play Xbox or eat biscuits. We are still co-sleeping, but Monkey goes down in his NCT Bednest for naps during the day. This gives C much needed time to recharge or potter around the house. Weaning has become the new buzzword in our home, which has been an exciting exprience to say the least. Porridge was the first taste to hit M's tastbuds and was a mega hit. He's now onto carrots and sweet potato which are proving to be favourites.
On Christmas Day Monkey decided to sit up on his own for the first time. Both of us whooped and teared up as he sat proudly next to his presents. Since then the length of time he can sit up has increased with each day. Today he sat for several minutes playing on his own whilst we tidied up around him. It's crazy how many toys he gets out to play with.
Teething has become a burden over the last two months. We've got tons of teethers and some teething gel, but nothing seems to beat chomping on his fingers. It really is heartbreaking when he gets himself into such a state that eventually he starts sobbing. If we could go through the pain instead of him, we would in a flash.
Since Christmas we've really started to notice Monkey interacting more with his toys. He's drawn to toys which make a crunchy sound or sing songs. He also showed an interest in Playmobil when we went to Toys R Us, at least that's what I am trying to convince C of. We are loving all the new things he's learning to do and can't wait to see what next month holds.