Munchkin Click Lock Training Cup – Review
A few weeks ago we were asked if we would like to review the Munchkin 8oz Click Lock Training Cup, which was perfect timing as Monkey had just started drinking out of cups.
Since starting to wean Monkey we have found it very hard to get fluids into him. We have tried all the different types of teats available but he just didn't seem to get the hang of it, so we resorted to putting water into a cup and letting Monkey lap at it.
At first it was the same story with the Munchkin Cup. M just didn't realise that it was the same concept as his bottle. I wasn't going to give up so I persisted with it. Last week we had a breakthrough. Whilst spending an afternoon at his Nanny's house, to my amazement he started sucking the water from the cup. Success!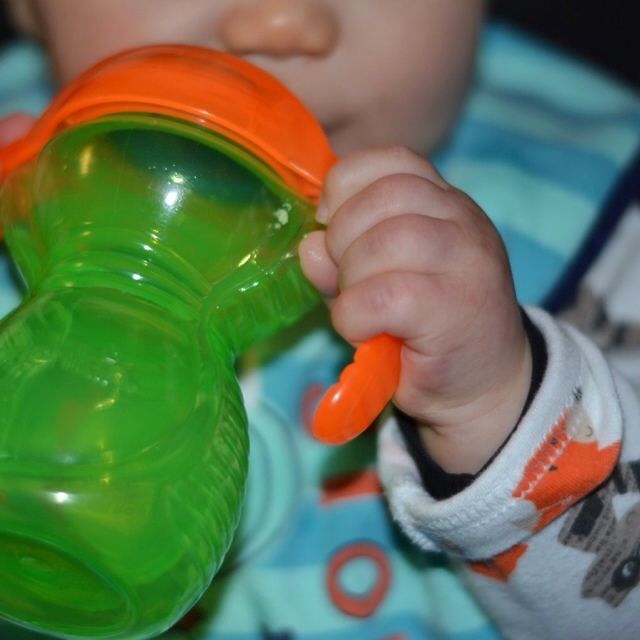 Since then it's been excellent. M loves to hold the handles, although he can't tip it up on his own yet, he thinks it's great fun. It's a non spill cup which has been put to the test when M throws it off his highchair, it really does work, I've yet to clean up a spill.
M needs to suck the teat a bit harder than a normal bottle but I see this as a positive, it doesn't let much air through so M doesn't get trapped wind. We have experimented with other cups since and they have made him quite sick.
We love the bright colours, we dislike bland looking products and this cup definitely stands out. We have the Green Bottle with the Orange handle, there are three different colour options to chose from.
The Click Lock Cup has a great shape which allows me to clean it with ease, the teat pops out and goes back in with no problems. The cup is very easy to assemble, the top has a very noticeable click when the handle/teat is secured to the bottle, it really does live up to its name.
The only issue I have with this cup is not having a lid for hygiene reasons. If I were to drop the bottle whilst out I would have a issue using it again after the teat landed on the floor.
I think this is an excellent cup. I would recommend it to anyone who is starting to wean their little ones from 6 months onwards.
*We were sent this cup free for the purpose of this review.