Our little bits of life – Linky
We recently read a post over on Mummy Daddy and me makes three's blog, titled My Little Bits of Life. We loved the post which involved Katie posting pictures about what she had been up to and captured on her iPhone.
When we saw it was a Linky we just had to join in. I take a lot of pictures which I share across twitter, Instagram, Facebook and our blog. But it may surprise you that there's still some pictures I haven't shared. So I've picked 6 to round up what we've been up to recently.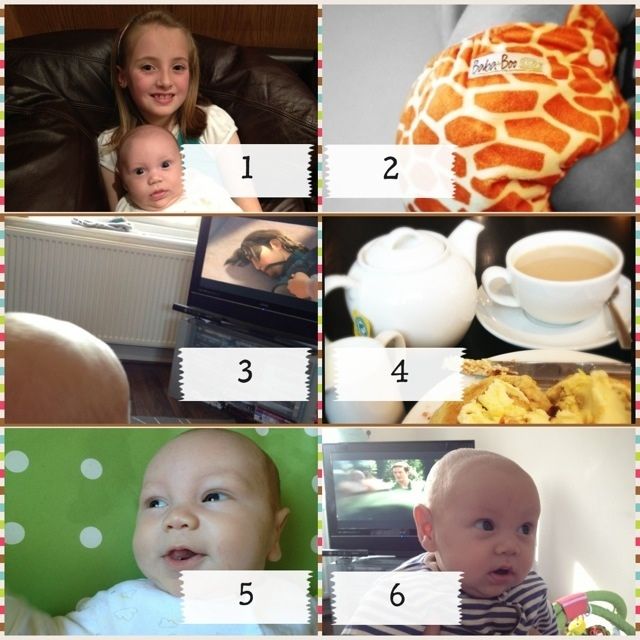 1 – We met up with my (K) side of the family in our local Costa for a catch up and so we could show off how big Monkey is getting. This isn't the best shot of Monkey I've ever taken but I think it's a lovely shot of my niece holding her baby cousin.
2 – We tried out Baba+Boo cloth nappies for the first time. We got on really well and Monkey looked super cute. We are gradually introducing cloth nappies so we can adapt without feeling overwhelmed. But so far so good.
3 – C discovered that when she put Tangled on the TV, Monkey was mesmerised. He favourite scene was when Flynn was fighting the horse. C was very happy as she loves Disney films and was looking forward to having someone to watch them endlessly with her.
4 – We managed to start to resume normal activity with a little outing to a local garden centre. We had a lovely breakfast then browsed round the garden centre before stopping for some tea. All whilst Monkey Snoozed in his pushchair. It was lovely to feel like we were doing normal activities again.
5 – Monkey has started to really enjoy laying on his play mat. He laughs and smiles whilst trying to grab at the toys hanging above him. He can only manage short bouts but it's an improvement on when we laid him on it and he just screamed.
6 – Monkey really listens now when you talk. He looks you right in the eye, mouth agape whilst you tell him how beautiful he is. He usually follows this with a smile which can melt hearts. We have yet to capture his biggest smiles as he seems to save them just for us when all cameras are out of sight.
We've loved joining in this Linky. Head over to Mummy Daddy and Me makes Three to join in.