Sandy toes and hearty soups
This weekend we visited our lovely friends from Devon at our halfway meet up point, Lyme Regis. Lyme Regis is just an hour from each of us and such a lovely little town to visit no matter what time of the year. The last time we met there we decided to start a tradition every time we went. We took a picture of a pregnant C and the lovely Devon dumpling *who featured in our Anywayup Cup review* on a wall by the beach. We thought this would be a lovely idea to see who our children and families grow over the years. This visit was very different, Monkey was much bigger than the last picture but still too little to sit himself, so I got to feature in this one.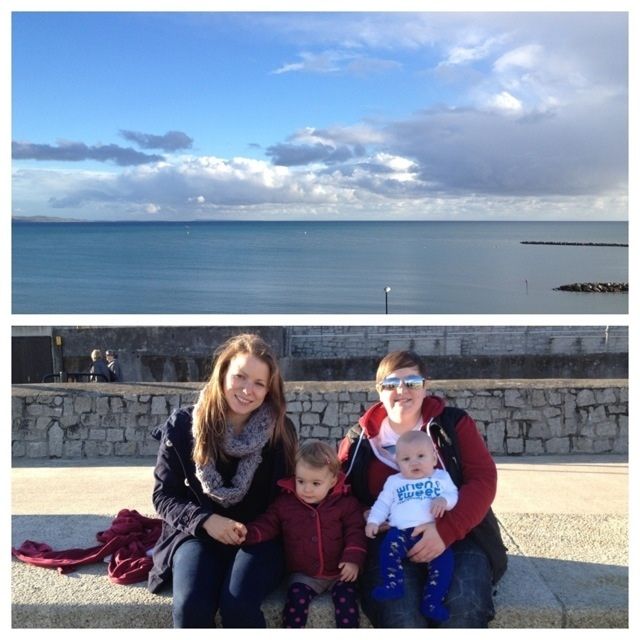 Luckily, although a little chilly it was a gorgeous day and the sun was shining. We decided it was much easier to get around with Monkey in a sling, so we wrapped him up warm in his new Next all in one and set off to the beach. After some rock throwing and a trial of an Ergo someone had kindly leant us to try we decided we needed a bite to eat.
Our friend Elsie had found a lovely restaurant called The Town Mill Bakery online. Their website states they don't serve Coca Cola, just fresh Apple juice and don't supply high chairs. We felt this was somewhere we could put to the test with two under two. On arriving we overheard a family of 6 being turned away as there wasn't room, so I was unsure if we would get a seat. But a lovely gentleman appeared and gestured us over to the middle of what I can only describe as a giant picnic bench in the middle of what looked like a big farmhouse kitchen. He instructed us that if there was not enough room, to just use our elbows to make some.
After a few excuse me's and me bumping a few people with our changing bag we were seated. Just for me to get up again to discover if there were changing facilities for Monkey, I had a strong sense there wouldn't be. We'd only been faced with a nappy situation once before in the middle of a field. Luckily it was a dry day so we were able to lay Monkey down on the grass. This time I was stumped, I walked into the single toilet, attempted to change him on my lap and sharply stood up as the toilet seat started to give underneath me. *it was a cheap seat I'm not THAT heavy*. I returned to C and requested her assistance and almost everyone turned to look at me. I explained the predicament and we resumed the nappy operation. In less than five minutes we had perfected a standing nappy change and we were back to our seats.
Whilst C fed Monkey I approached the counter to fetch our lunch. I loved how it all worked, you took a wooden board, served yourself lunch then ordered your drinks. Choices were Hearty soup or gorgeous breads, we shared a bread and had soup. It really was a delicious chunky wintery soup, the atmosphere was fantastic too. I felt like I was in someone's home. All the staff kept cooing over Monkey and one even approached and asked if she could have a squidge of him. Both C and I exchanged glances as we weren't in the habit of letting strangers hold Monkey, but he enjoyed the attention and I think she sensed we are unsure so she kept the cuddle to a minimum.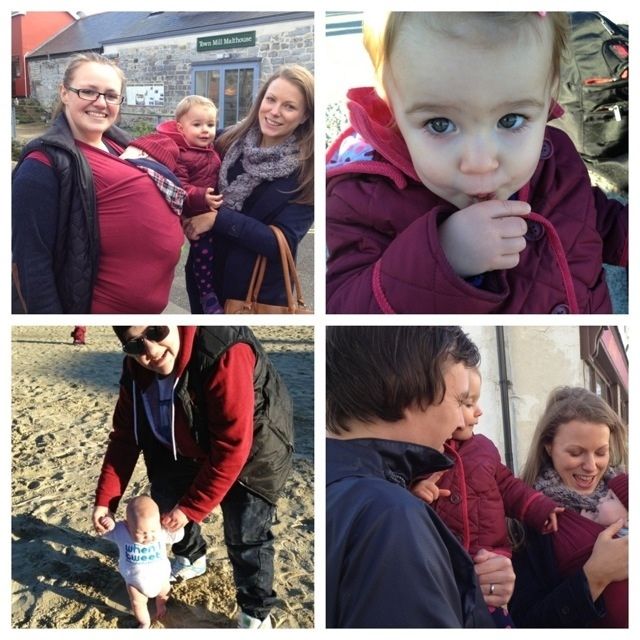 After lunch we decided to head back to the beach and wrapped Monkey in his sling, this time on Elsie. Monkey didn't bat an eyelid and snuggled up, which is good to know he is ok around other people. Once back on the beach I decided that Monkey should have his first feel of sand on his toes, so we quickly stripped him of his tights and let him get sandy toes. He didn't seem too fussed until he realised he was a bit chilly. Five minutes later he was all wrapped up again in the sling as we set off for our final tradition of the day.
Our final stop was a visit to an ice cream vendor on the beach front. If you ever go to Lyme Regis you must search for this vendor. They serve the best selection of retro ice creams I've seen in Dorset. If you love chocolate you just have to try the Star stacker sandwich, it's delicious. As car park tickets started to run out, we said our goodbyes and started our journey back home. Family days out are the best.