Slugs and Snails Tights – Review
Slugs and Snails is a brand which stocks bright and bold patterned tights that help your little one's individuality to shine. The tights are marketed as being for boys as they were designed with the creators boys in mind. But we wouldn't let this stop us buying a pair for our friends daughter or if we are blessed with a daughter in the future.
At the moment it's perfect tights weather, as Monkey's socks never stay up round his chubby little legs and end up slipping off. I'd been wanting to get a pair of tights for Monkey for a while but wasn't sure how comfy he'd be in them as we'd mostly been dressing him in baby grows.
All of the Slugs and Snails are fun and funky designs, but one design really stood out for me.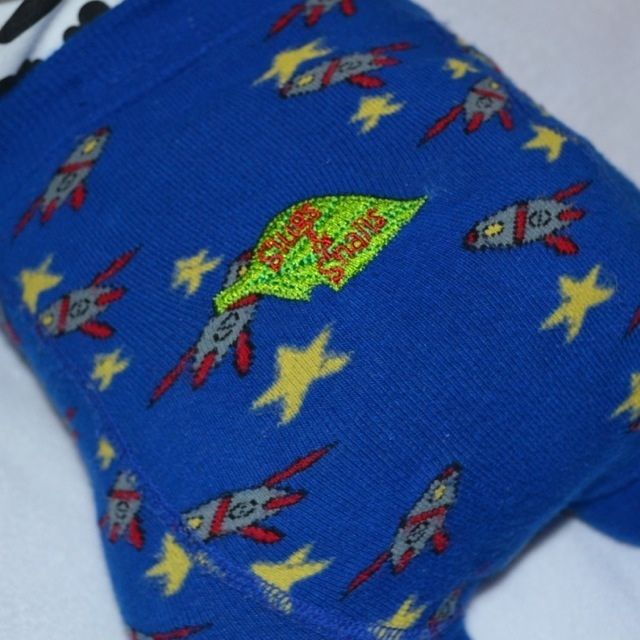 I have a bit of a thing for Space themed products. So we chose the Out of this world design.
We weren't at all disappointed when they arrived. My memories of tights when I was younger, was itchy, uncomfortable tights which sagged round my ankles. Slugs and Snails tights couldn't be further from my old tights fears.
The design is very well finished and the material is comfortable and warm, they allow Monkey to bounce around and roll over and didn't sag. He also looked mega adorable in them if I do say so myself.
We also loved the little raised writing on the soles of the feet which added friction. Even though Monkey can't stand unaided he does love to stand so this was a nice touch.
Our only fault we can find would be the price could prove to be a little high if you wanted to kit your little one out for the whole week. But a bonus is they offer seconds (Which state they have misprints) at a reduced rate on their website.
I love putting Monkey in his tights, they keep him super warm and are much less fussy than trying to keep putting socks back on.
Slugs and Snails Tights would make a great Christmas present or stocking filler.
You can purchase Slugs and Snails tights over at their website. Just click here.
*we received some Slugs and Snails tights for the purpose of this review – All views and opinions are our own.