Stokke Tripp Trapp – Review Part 1
We have always been huge fans of Stokke products, especially the Stokke Tripp Trapp. So when we heard the news that we were going to receive one, we were ecstatic and rightly so, it's amazing!
When it arrived at the door I was jumping around with excitement, I even recall clapping my hands a little, I'm not embarrassed to admit that, it's what happens when you become a parent. We even took pictures of Monkey sitting on the box.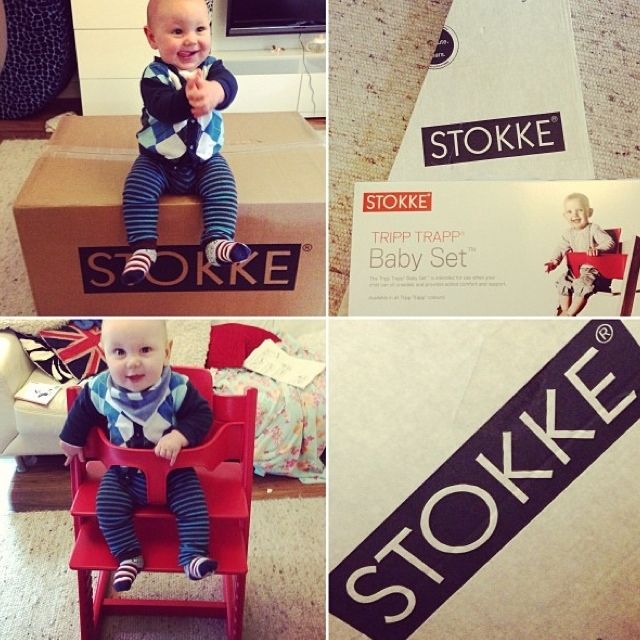 Of course we set it up straight away, it comes flat packed with really good instructions. We know that these days baby products tend to come already set up but this is not your average high chair, it grows with your child all the way to adulthood. In order for this chair to do so, is by having the luxury to change the height of the seat and the foot rest.
We took 35 minutes to put the Tripp Trapp together, it would have been much quicker if we read the instructions more clearly, they are brilliantly set out and easy to follow so it was purely down to us rushing. Kirsty is really good at this sort of thing and we quickly figured out where we had gone wrong. It feels incredibly sturdy, I suppose that is the luxury of having a wooden high chair, perfectly balanced.
We are currently using the Baby Set for Monkey, he fits in it very well and is snug enough that we don't have to worry about a harness. Harnesses are available from Stokke for when he moves on from the Baby Set. We love that the Baby Set comes in different colours so you can mix and match or colour coordinate, we went with the latter.
Monkey looks extremely comfortable and his movement isn't restricted in the slightest. We will probably be purchasing a cushion set, we find that M likes to sit in his chair and play with toys on occasion so we want to make him as comfortable as possible, these are also available and come in a variety of different colours.
Unlike other high chairs the Stokke Tripp Trapp is quite low, which is excellent for allowing baby to sit and eat at the table with you. We are currently living in a house where there is no dining table and we use a breakfast bar so Monkey is unable to sit with us 'at the table' but he doesn't seem to mind very much. We still eat together at meal times, we purchased a play tray so he can still feed himself. I'm sure it will be perfect for when we move and buy our new table. I will be on the look out for one that allows the Tripp Trapp to fit up against it perfectly.
It's very easy to clean, no awkward corners to try and get to. All it needs is a simple wipe with an antibacterial wipe and it's ready for Monkeys next meal. Our previous high chair started discolouring after a month, as we all know meal times with a baby is not the cleanest! If you have a Tripp Trapp it's a doddle and our clean up time had been halved.
We love bright colours so chose a Red Tripp Trapp, and it was the best decision, it stands out and brightens up the room. We are going to buy a Tripp Trapp for all of our children in all different colours. Have a rainbow of Tripp Trapps.
The Tripp Trapp retails at £135 which is very reasonable considering it is a chair for life. There is a New Born Set which allows your little bundle to be close by at mealtimes from birth. Accessories such as the Baby Set, Newborn Set and Harnesses can be purchased at an additional cost.
I would recommend you invest in this chair, we love it!
This is part one of our review, once Monkey has outgrown the Baby Set we will write an updated review.
We received a Tripp Trapp free of charge. But have written this review out of love for it. All views are our own.