The Baby Show – Earls Court – 2012
On the 27th October, we attended The Baby Show at Earls Court in London. It's an event we had been looking forward to since we visited The Baby Show at Excel in London at the beginning of the year. We went armed with a long list of exhibitors and products we wanted to look at and we'd spent several hours planning our route around The Baby Show.
Our plan went out the window once we saw the bright colours and welcoming faces tempting us towards their products. We decided to attempt to cover more ground by following a strict pattern round the show. This didn't last long as we kept spotting products we wanted to view and wandering off in other directions. This proved to be the best way to get round The Baby Show as it allowed us to discover stands we may have missed.
We were lucky enough to finally meet the lovely team at Snuggle Bundl and even received friendly hugs. We also met Monica from Baby Rug who sold us the fantastic Sophie Giraffe, which Monkey Loves and the lovely Catherine from Pico Nido. If you ever get to an event that Catherine is exhibiting at, then go see her as she is very friendly and sells the most gorgeous shoes and clothes.
We spent lots and Monkey is going to be very spoilt at Christmas time, as his Nanna has got him lots of gifts including a fab Trunki. We didn't manage to get round everyone, though we think is is due to there being so many fab products we wanted to try. Here are some of the fab things we bought and some companies we feel are worth a mention.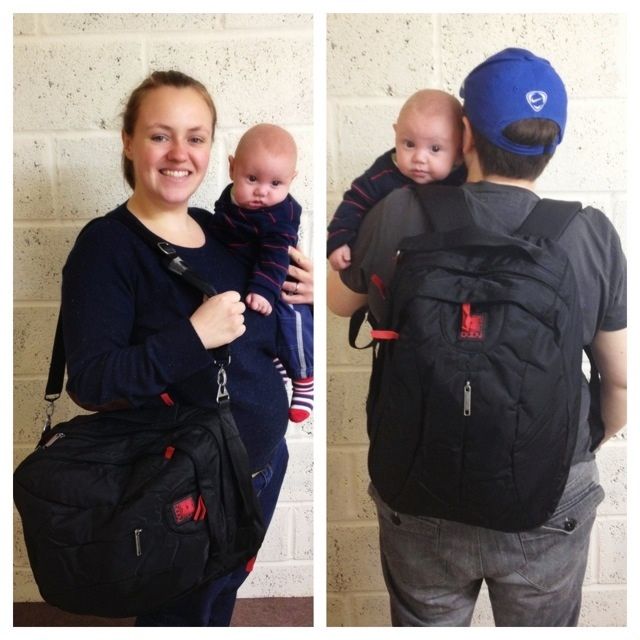 Baby Mule Changing Bag
This is a fab Changing bag which can be worn over the shoulder or as a rucksack. You can also attach it to your pushchair. It boasts lots of features including lots of different pockets to organise things and a detachable changing pouch with a handy changing mat.

Gummee Glove
This is the Worlds first Teething mitt, designed for babies who can't hold a teething toy yet. The top ring is detachable and can be put in the fridge for an added soothing effect.
Spilly Spoon
This spoon is a fantastic non spill medicine spoon, designed to help parents administer medicine without spilling any. You can even add the desired amount of medicine and lay it flat without spilling a drop.
Poco Nido
Poco Nido offer limited edition children's clothes and shoes. Including these gorgeous pair of cat shoes above. They offer a unique range of bright and colourful t-shirts and shoes that are exclusively designed in their studio in Sheffield.
 Funky Giraffe Bibs
Funky Giraffe stock the most adorable, comfortable bandana bibs along with lots of other cute accessories. We love their range of Shoulder pads for burping, our favourite design is the fab one above.
We had such a fantastic day, we really wish we'd had longer to look around. We can't wait for our next chance to visit The Baby Show. It was also really lovely to meet some bloggers too, the lovely Hayley, Sian and Claire. Now we just need to move to make room for all our purchases.