Twitter T-Shirt – Rusks and Rebels Review
A few weeks ago the lovely folks over at Rusks and Rebels allowed us to pick one of their items of clothing for review. As big fans of all their clothes, it was almost impossible to decide which item to go for but one item was just too good to pass up the opportunity of reviewing.
We just had to see Monkey in a Twitter t-shirt, seeing as we are both big twitter fans.
From the moment the parcel arrived we were impressed with the attention to detail. The package was wrapped with a personal sticker letting us know who packed our item, with some bonus sweets inside. The sweets didn't last longer than it took to unwrap the package.
Straight after opening the Rusks and Rebels package I wanted to get the t-shirt onto Monkey. We'd gone for a size 3-6 months, so he was a bit small for it.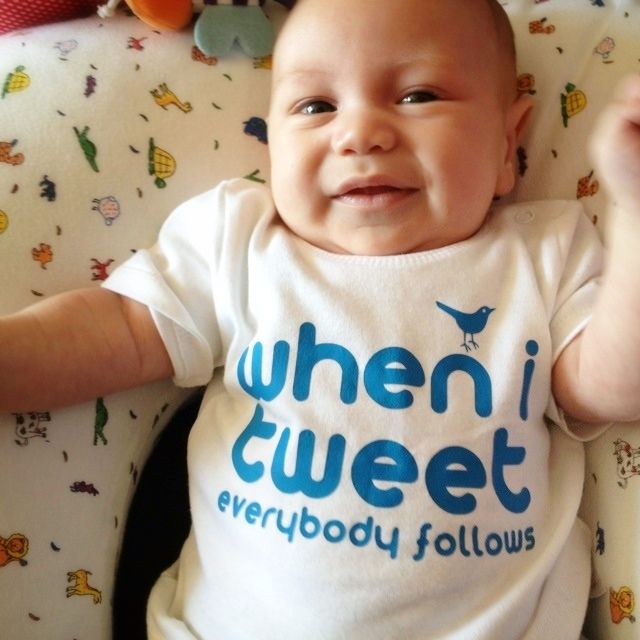 But after a few weeks he was the perfect size and once in it I couldn't get him out of it! Or more to the fact we thought he looked so darn cute in it that we didn't want him out of it.
He wore it during practice of his standing trick, during tummy time, whilst on the activity mat and whilst entertaining family. It's an incredibly comfortable t-shirt and very soft. Monkey can be quite fussy about certain clothes, but didn't grumble when wearing his Rusks and Rebels Twitter t-shirt.
We really loved the attention to detail and quality of the t-shirt. We've even considered buying more in older sizes as it's always a conversation starter when he's wearing it. If you want to buy one you can over at Rusks and Rebels for £9
*we were sent a Rusks and Rebels t-shirt for the purposes of this post. All views are our own.