Urbo Shoot – Behind the scenes
If you're a regular reader of our blog you would already know that we're working with Mamas & Papas on their Urbo, How we roll campaign. If you're new here, firstly Hello, you can read more about that announcement here (Part of the Family).
As part of the campaign we were invited to London to take part in a photoshoot. Neither C or I had ever been involved in a professional photoshoot so we were a little anxious. My main concern was the fact I was going to have to wear makeup, we'd been contacted by the stylist prior to the shoot who had asked us about clothing styles and C had told them I wear men's clothes but hadn't specified I didn't do makeup. I studied Media Studies at college and C studied theatre at Uni, so we were both aware that for me to be visible on camera I was going to require some form of makeup. I just wasn't sure what look I'd end up with.
After nearly two hours of travelling and Monkey's first trip on a bus, tube and train, we arrived in Hackney. The studio was tucked away underneath the railway bridge and was the classic example of never judging a book by its cover. We stepped through some old tattered doors into a studio complete with leather sofas, photography cove and a makeup station with the awesome mirror and lightbulbs you imagine all the great stars using when applying makeup.
The Mamas & Papas team were all present and ready to rock so I didn't have time to worry before I was whisked in front of the huge mirror to have my face made suitable for camera. The makeup artist was so lovely, she obviously could tell I wasn't a makeup wearer and promised that she would try to make the makeup as low key as she could whilst still allowing me to show up on the shots. Luckily the makeup chair wouldn't raise high enough for me to see the scary things she was doing to my face. At one point the stylist appeared holding Monkey and his face told me everything I needed to know. He didn't recognise me until I spoke, the C walked over and gasped. I was eager to see how I looked once she was finished and trust me I nearly didn't recognise myself!
Then it was C's turn in the chair, I loved the way she looked as I think she's incredibly beautiful with or without makeup but she wasn't so pleased. C felt her personality wasn't captured too well as she usually wears her hair up but we agreed that I wasn't exactly looking myself either. Then it was off to wardrobe (a small room behind a curtain) to get into our clothes. I scored a great result here when I was told I could wear my own clothes and C's jeans with one of their chosen shirts. This helped me to feel so much more comfortable. C took a little more fiddling as they tried to coordinate us all. Monkey was put in some gorgeous Mamas & Papas clothes and looked utterly adorable.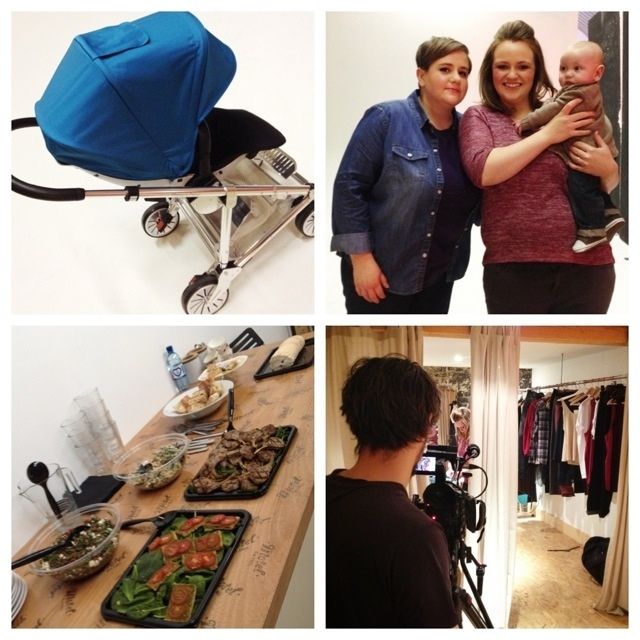 Lunch was served before the camera starting snapping, it consisted of a gorgeous buffet spread that was totally unexpected. It's was followed by the best dessert I've ever eaten, it honestly tasted like angels had made it.
So with full bellies and made up faces it was finally time to start shooting. The Urbo was positioned on the white cove and we were directed to stand in different positions near it. I was assigned the task of holding Monkey, with only one arm (not an easy task). At one point I felt my back going but luckily they got the shot. Towards the end Monkey started to get restless as he was tired and everyone was so lovely, giving us time to settle him etc.
Then it was all over, we got to see some sample shots and were kindly given some of the clothes from the shoot. It really was such a fun experience, if you're ever invited to a Mamas & Papas shoot I'd say go for it! We look forward to sharing the Urbo, How We Roll pictures once we receive them.