Vital Baby Weaning Products – Review
The lovely folks at Vital Baby recently sent us two products from their weaning range to review. We have been weaning Monkey for a few months now, so we are always on the look out for new products to make the process easier for us all.
The items we were sent were Vital Baby Mini Press 'n' Pop Freezer Pots and Weaning Set.
Mini Press 'n' Pop Freezer Pots
When I first saw the pots I loved how colourful they were, it's lovely to see a different colour thrown in amongst the blue and the green. Since using them for a few weeks I've noticed it also makes them very easy to spot in the freezer after a food shop has been crammed in on top of them, which is great when your in a rush to get baby's dinner on after a busy day.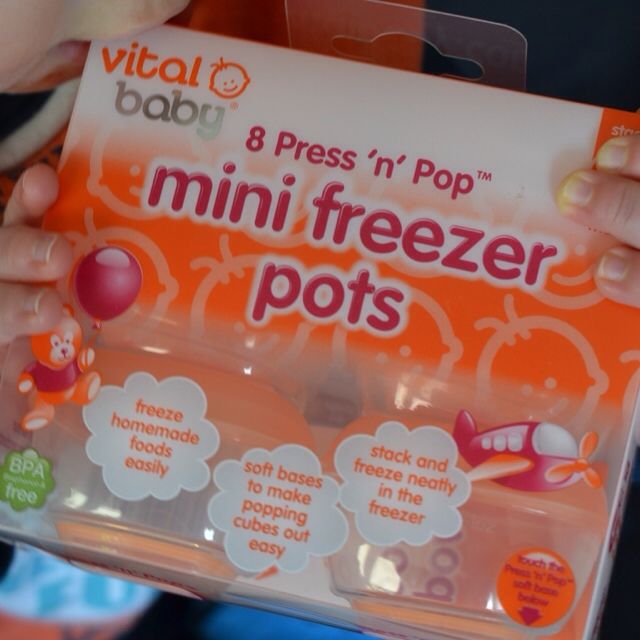 The pots have a rounded design, which makes them very easy to clean, no teeny tiny corners to try and get food out of like some of the food pots out there.
They hold 1oz or 30ml of food, which for Monkey isn't really a lot so I usually have to use 2 or 3 depending on how hungry he is but that doesn't put me off using them. I think they are fantastic.
They have an easy push base so when you get them out of the freezer, all you have to do is soak the bottom in a little bit of hot water and the food pops straight out, without any problems. They are microwave safe but we have chosen not to use them in that way as personal preference.
I would recommend them to anyone thinking of trying a different freezer pot and at £3.99 for a pack of 8 I think that is quite a reasonable price.
Weaning Set
The weaning set is very useful, it's a great size for holding enough food to fill M's tummy and will double as a lunchbox when we go on day trips. It has a handy spoon which fits into the lid and is covered by its on little lid. K was adamant it would flip open and spoil the spoon, but after lots of shaking and hanging upside down it stood fast and firm. The bowl has a handy rubberised lip on the base to stop it slipping on smooth surfaces.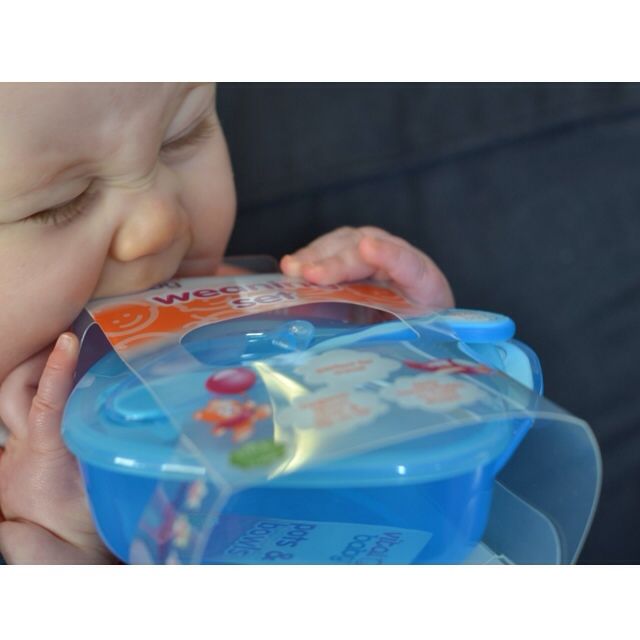 At £3.99 we thought it was middle of the range on price. It washes up really well and is very easy to store, which is good for us as we don't have too much space.
The fab folks at Vital Baby are offering our readers a chance to win an Unbelievabowl and a 2 handed training cup in either pink, orange or blue. Open to UK residents only.
*We were sent two Vital Baby products for the purpose of this review.