Yesterday the Mayans got a prediction right when it came to our household. It was the start of a new beginning. We all had a new world starting with new sights, new tastes and new experiences.
That new world we entered, is the world of weaning. Monkey had been showing signs of milk not being filling enough. He had stopped sleeping at night and was crying after his milk, even when we upped it. We took to social media and family for advice. We quickly discovered that there was no hard and fast rule for each baby and the right time was different for everyone. C spoke to M's Health Visitor, who initially advised tips on holding off until 6 months, so that we could begin Baby Led Weaning. After just over a week of trying every tip she offered us, plus tips we'd gathered off Twitter and Facbook, C went back to the Health Visitor. She advised that it was best to start weaning, but not to worry if Monkey won't eat more than a spoonful.
Suddenly it seemed like someone had flung open the doors to a brand new world. We were excited to discuss what M's first taste of food would be. C was adamant it wouldn't be baby rice as she'd tried it and thought it tasted like cardboard. We didn't want his taste buds to be too overpowered though, so we went for banana and Strawberry Porridge (gluten free).
Luckily just over a week ago I won some spoons from Hipp Organic and for my birthday this year I'd been given a baby bowl with a Monkey on (long story). So we were all set to start weaning.
Lunchtime arrived the porridge was prepared and I had first taste. It wasn't bad, it was no gourmet meal but it had to beat the taste of formula, that stuff is disgusting.
M's eyes lit up as C walked towards him with the bowl. He knew this was something different, we'd propped him up in his Widgey with a plastic backed bib on. This never happened at lunch time. C prepared the first spoonful whilst I stood poised with my camera, which is my assumed position whenever something new is brewing.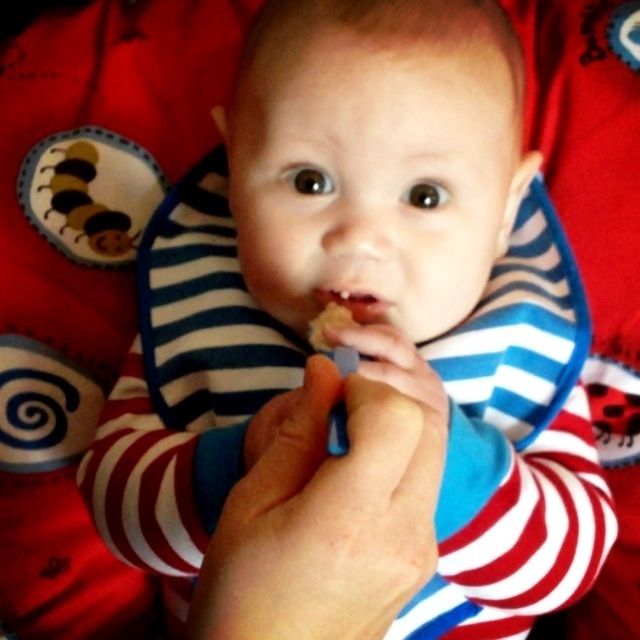 We anticipated a brief tasting then possibly a refusal to eat anymore. We were so wrong, spoonful after spoonful, he just kept grabbing for more and lapping it down. Smiles and kisses were shared as we acknowledged the first steps on this new path to food.
The only thing we're not looking forward to is the new nappies.